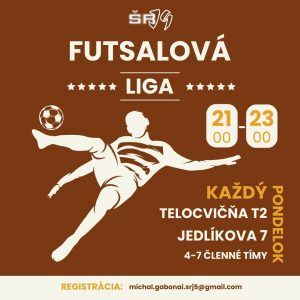 Like every semester, we have prepared sporting events under the auspices of the Student Council of Jedlíkova 9. We have organized a year-long football tournament, where the winners of Jedlíkova 5,9 and 13 will meet each other in the final and play for the title of champions of Jedlíkova. You can look forward to interesting prizes.
To register for the competition, please email: michal.gabonai.srj9@gmail.com.
Registration must be sent from a student email.
Only students who are in J9 and J13 can participate, as the tournament is on a different day for J5 students. The names of the team members should be included in the email, which should be a minimum of 4 and a maximum of 7. The name of the team should also be included. It will be played with a 3 + 1 system on small goals 2×7 minutes in the T2 gym on Jedlíkova 7 every week on Mondays from 21:00 to 23:00.
The number of teams is limited, registration is possible until 20.10.2023